Business Cards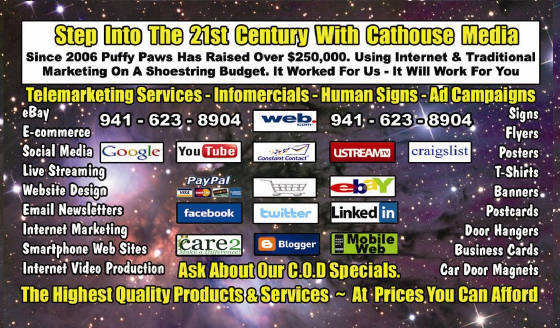 Support Englewood, Florida's "World's Greatest Cathouse," Puffy Paws Kitty Haven is a 501(c) (3) non-profit, no-kill cat hospice specializing in providing quality and loving care to special needs cats.
Do you need custom designed business cards ?
We offer full color singled & doubled sided business cards with a UV front coating and no coating on the back, so you may write on them.
They are printed on 16 point stock a very nice heavy duty paper with a great feel to them.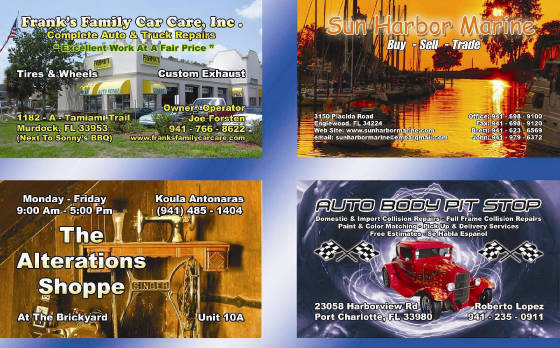 Each card is custom designed for your business. No two cards are alike. I have been a graphix artists for almost ten years. As a bonus we will list your new business card in our Business Directory, for a full year.
After you make your donation - please fill out the form below so we may get started on designing your business cards.
Thank You
Rick Kingston-Co-Founder
Puffy Paws Kitty Haven 941 -623 - 8904
Front:
Slick UV Coating For That Photo Finish Look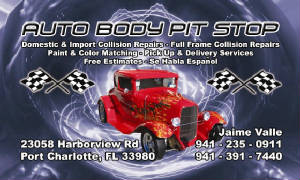 Back:
No coating on the back for easy writing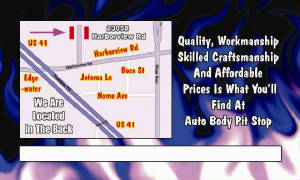 HOW TO ORDER


Puffy Paws can only fulfill order from within the continental U.S.A.
Please choose the package that fits your business needs
Please make your donation.
Please fill out the form below. Send picture to the our email address.
Please go to the Proof Page in 3 - 5 business days to check your first proof.
Review your first proof.
Please make any changes you want using the Proof corresponding box.
After you sign off on your proof you will receive your cards within 7-10 business day.
Free free to call Rick at 941-623-8904 with any questions.

Puffy Paws Kitty Haven (PPKH) will provide the client with a color proof only after all materials are received that are needed to create the client's order. The time frame will be within * 3 to 5 business days. (Excluding all weekends and holidays) of the receipt date.

PPKH will provide up to three free proofs. One initial, one minor, and one final proof. If client has extensive changes or corrections, additional layout/design time will be charged.Client is responsible for all text corrections.

After PPKH receives the client final approval in writing, that there order is ready to go to print. The turn around time for printing is around *7 - 10 business days' excluding all weekends and holiday.

The final proof must be signed, dated and returned by the client by e-mail or by US mail before actual printing can commence.

No changes will be accepted after client's written approval of the final proof . This means spelling errors undetected, wrong phone numbers etc. Colors may vary according to your screen calibration and may not match the final print. PPKH cannot guarantee exact color match.

PPKH will not be responsible for any errors or omissions after client's final approval, regardless of origin.

If there is a problem with the final printed product. PPKH will replace the product, if the printing company that printed the clients order,
deems that the order was defective . The client must informs PPKH of the problem with-in 24 hours of delivery of the product.

A written notice of the exact nature of the defect and the defective product are required to complete the re-print process. Under no circumcises
what so ever, will there be any refunds.

941-623 8904 .



1,000 Business Cards
Package A - $99

* 1,000 Full Color Singled Business Cards
* Ad In the Business Directory
1,000 Business Cards
Package B - $129

* 1,000 Full Color Double Side Business Cards

* Ad In the Business Directory
5,000 Business Cards
Package C - $199
* 5,000 Full Color Singled Sided Business Cards
* Ad In the Business Directory
5,000 Business Cards
Package D - $249
* 5,000 Full Color Double Side Business Cards

* Ad In the Business Directory