Community Service
Puffy Paws Kitty Haven Donation Center - 8315 Woodgate Ct - Englewood
941 - 623 -8904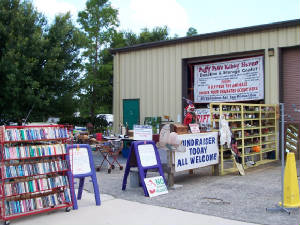 To all Community Service Personnel
Slots are very limited at this time. If you do not hear back from us in 72 hours after submitting the application and quiz, this means we have no slots open. Do not call us. We will call you as soon as a slot is opened.
Congratulations in taking your first step in fulfilling your debt to society.
I once was were you are now. I grew up in the 10th Ward up in Rochester NY and I most likely did what you all have done but I was never caught in America.
I hit my bottom when I was in the US ARMY, in Mannheim Germany during the Cold War. After getting arrested time and time again, I was nearly stabbed to death in Heidelberg, Germany and due to my part in this altercation, I was facing three years in Fort Leavenworth Federal Prison.
When I came back to the World I decided if I wanted to live to be 22 years old,I needed to change my whole life around.
I found the help that I needed and now I have been clean and sober for 28 years.
The bottom line is that you have choices today. It's up to you in how well we are going to get along during your time at Puffy Paws.
Puffy Paws Thrift Shop is " NOT " a Day Care for Felons. It is really simple - You must have listening skills, if you do as your told - when your are told the way you are told, we will get along fine. If not you will cost me time and money.
If that happens you will not like your time at Puffy Paws and you be running away with your stories of woe ! If you think my old school, Sesame Street, military style of running things are bad .What are going to do when you hit jail again and or prison where their is people who are out to hurt you, steal from you and make your life miserable ?????
Just remember one thing, you can not con a con, and if you try, enjoy doing your Community Service else where.
Just follow the few simple rules and you will enjoy your time here and this part of your life will be over so you can move on to bigger and better things.
Godspeed To You All

Rick Kingston
Co-Founder
Puffy Paws Kitty Haven
The Bottom Line
We have flexible hours.
You will be working outdoors in the Florida heat.
You must read the following Web Page.
By signing the Community Service application you acknowledge that you have read and understand - " Extreme Heat: A Prevention Guide to Promote Your Personal Health and Safety " and accept all personal responsibility in keeping yourself safe from the Florida heat while doing your Community Service at Puffy Paws.
If you experience any of the symptoms you just read about while doing your Community Service at Puffy Paws,you must notify us immediately so you may seek proper medical attention.
We can schedule you up to 7 days a week from 8:am -10:pm.
( When we have slots open !!!!!!!! )
2 HOUR SHIFTS - 4 HOURS SHIFTS - 8 HOURS SHIFTS & 12 HOUR SHIFTS ARE AVAILABLE
You will report to our Donation & Storage Center.

We are located off San Casa Drive at 8315 Woodgate Ct - Unit E, in Englewood Florida.
If your report to any other address other than the one above, this tells me you cannot follow simple basic instructions and you wonder why you got caught !
We are surrounded by the Englewood Walmart Parking lot (See Map Below)

If you are in the Englewood's Walmart parking lot and are facing the far right hand entrance ,which is the Grocery entrance, look right and you will a set of storage units. We are the last unit on the left - Unit E.

* If you have ever been trespassed from any Walmart. You need to lets us know immediately. You may still do your hours at Puffy Paws but you cannot set foot on their property.

Some Of The Community Service Positions at Puffy Paws.

Donation Center

CSP to assist in our Donation Center & Thrift Shop. CSP assist by sorting and organizing stock - opening & closing the shop; other shop tasks. You must be able to work outside in the hot conditions. You must be able to lift 25 pounds.

Sign Holders

If you do not have listening skills you will be dressed up as teletubbie Stinkey Winky, enjoying the great outdoors, while hanging on to a lightweight sign. This is a great way to attract attention for Puffy Paws Kitty Haven


Donation Center Maintenance /Construction

Maintenance/Construction CSP assist with much needed upkeep activities include minor construction, landscaping, painting .

Supply Pick-Up

CSP must be willing to use their own vehicle, gas and have insurance, and a valid driver's license. CSP are needed to pick up supplies from Walmart - Dollar Store and Publixs.

Terms & Conditions

If you want to do your Community Service time here at Puffy Paws, it's important you get to know who & what we are, and what you'll be doing to help our organization.

You will be asked to take a quick on-line quiz that you must take after you submit the Community Service agreement,
This will help you understand why it's important to follow all instructions and finish the work that needs to be done.
Remember, this Community Service agreement is part of your probation; you need to do what is asked & expected of you.

So please educate yourself in who we are and what we do. Work hard & have a positive attitude to help the kitties.

Community Service Agreement

ALL VIOLATIONS OF THESE SIMPLE RULES WILL RESULT IN US ASKING YOU TO DO YOUR COMMUNITY SERVICE ELSEWHERE.
IF WE ASKED YOU TO LEAVE - YOUR PROBATION OFFICER WILL BE NOTIFIED.

1. You must treat this like a job. When we schedule you must be on time and work the hours you agreed to. If you can not make it you must call in before the start of your shift. 24 hours advance notice required. You must work your full shift, ,that you agreed to. It is advised, if you leave early, other than for a valid reason, enjoy doing your community service work elsewhere. If you are running late. You must call. Failure to do so will result in us asking you to do your Community Service else where.

2. Neat appearance & proper hygiene is must. You may wear solid colored T- Shirts with no logos. All shirts must cover upper body. No flip flops or sandals. You may wear shorts. No daisy dukes, cut-offs You will be working around our customers. Dress for success. Failure to do so will result in us asking you to do your Community Service else where.

3. No felontuide. If you can not take good orderly direction and if you do not have listening skills. Please do not waste our time. Call someone else on the list to do your Community Service.

4. No swearing, weapons , drugs or alcohol allowed on the premises. sexual harassment , stealing, and insubordination will not be tolerated and will be reported to the proper authorities. Do not report if you have been drinking or high or hung-over. You will be asked to leave immediately.

5. You must work weekends, unless your work schedule prevents other wise.

6. Do not ever ask for extra hours that you have not worked. ( IF YOU DO YOUR PROBATION OFFICER WILL BE NOTIFIED).
7. You must fill out your availability & contact information in full or we will not get back with you. ( Below )

8. We are here to provide you an opportunity to complete your court order community service hours. It is a privilege to work here not a right.

9. If you hurt yourself or have an accident while working at PPKH you must report it immediately to PPKH and your Probation officer.
10. If you do not hear back from us in 72 hours this means we can not use you at this time. Do not call us. We will call you if and when we can use you.
11. If we call you and if you fail to call us back with-in 24 hours we can not use you. Do not Text. Call !
11. I the undersigned, do hereby agree to release the Puffy Paws Kitty Haven known as the PPKH from all liability. I will not hold the PPKH liable for any damage, illness or injury sustained during community service work at or on behalf of PPKH or during my visit.

I, the undersigned, will never institute any action or suit at law or in equity against the PPKH, nor institute, prosecute or in any way aid, assist or participate, directly or indirectly, in the institution or prosecution of any claim, demand, action or cause of action for damages, costs, loss of services, expenses, or compensation for or on account of any damage, loss or injury either to person or property, or both, whether developed or undeveloped, resulting or to result, known or unknown, past, present or future, arising out of the condition or operation of the PPKH (including, but not limited to any damage, loss or injury to person or property, or both, resulting from contact with or the actions or conduct of any persons associated with or with or animal located at or in the custody or control of or in connection with PPKH ).

The undersigned community service personal further hereby releases, demises and discharges PPKH and covenants and agrees to defend, indemnify and hold the PPKH harmless of and from demands, damages, suit costs or expenses said community service personal or visitor(s) has, had or may for any reason or which may occur or arise by reason of community service worker as, activity or work now or, heretofore or hereafter at or with PPKH.
Fill Out All Contact information & Take The Quiz

This Means Answer All The Questions Not Just The Ones You Want To


DO NOT MISS ONE QUESTION. ALL MEANS ALL !

Failure To Do So Will Result In Us Not Calling You.

When we have slots open !!!!!!!!!