Against All Odds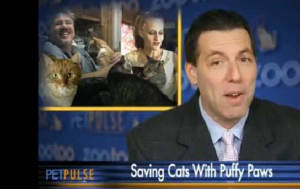 PET PULSE NEWS VIDEO
Dear Kitty Lovers Of The World
If you believe in love then Puffy Paws is for you.
Please read & watch & connect with us & follow this amazing story
Puffy Paws Kitty Haven unofficially began 17 years ago in the loving home of Chrissy & Rick Kingston.
Now Englewood, Florida's "World's Greatest Cathouse," Puffy Paws Kitty Haven is a non-profit, no-kill cat hospice and rescue specializing in providing quality and loving care to special needs cats and finding homes for the adoptable kitties under their care.
A Reporter from ABC 7 News has called Puffy Paws Kitty Haven " A Bed & Breakfast For Cats ". Another reporter from the Gasparilla Gazette, wrote " Puffy Paws Kitty Haven is immaculate and if all the cats hid under the bed, anyone entering the home would have no clue cats even lived there.
"Puffy Paws cares for kitties with feline leukemia, FIV, feral cats, unadoptable kitties, one eye cats, senior kitties, kitties that do not use their litter box, abused kitties, cats with neurological disorders, abused kitties and more - basically unwanted and unadoptable kitties that would be euthanized elsewhere.
Since the airing of the Video in October 2008 on Pet Pulse and being on the NEW YORK POST web site.The kitties have doubled along with the daily cost and we now have $3,000 dollars in monthly operating expenses.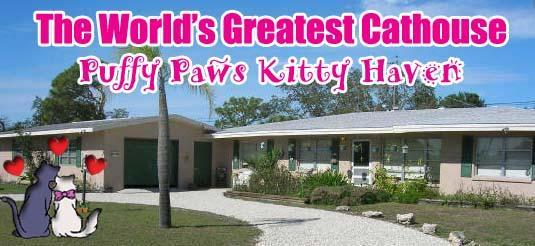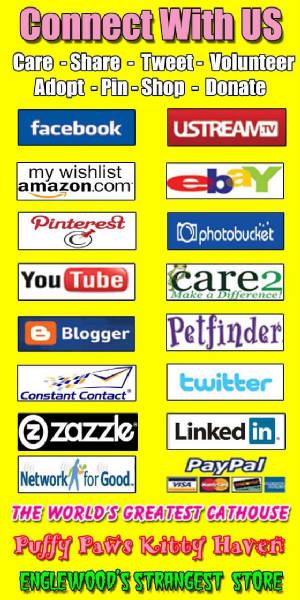 THE HAVEN

Puffy Paws is set up to handle the different medical concerns the kitties have by separating them into their very own living quarters.
The 2700 sq foot " Haven Home " has their healthy adoptable kitties, andtheir permanent residence who have physical, emotional and behavioral problems.
Their 2nd building is 800 sq foot and 400 sq foot of it is solely use for the kitties with feline leukemia, which we have nick named " The Kitty Angel Club " because all the precious fur-babies are living angels who are living out their lives.
THE GOOD OLD BOY NETWORK
Puffy Paws Kitty is internationally known and supported by kitty lovers from all over the world all becasue of the cruel intentions of one small Florida town control by a good old boy network.
In the small town Puffy Paws resides in, early on they found out most town folks pick their rescues like a NFL football team. They pick one team and have disdain for the rest.
Some local folks have tried to shut Puffy Paws Kitty Haven down, when power, money and prestige is involved their will always be dirty deeds abound.
Please keep in mind Puffy Paws, does have a handful of local supporters, which we are totally grateful for, but their is not enough local support to sustain our mission.
Before the Fall of 2009 times were good. The Kingston had over 350 adoptions in a very short amount of time by hosting a Open House three times a week at the Haven. Inviting prefect strangers into their home so the adoptable kitties may find a "Fur - Ever" home to quaifly applaicants. 350 did !

Click The Link To See Some of The Successful Adoptions at The Haven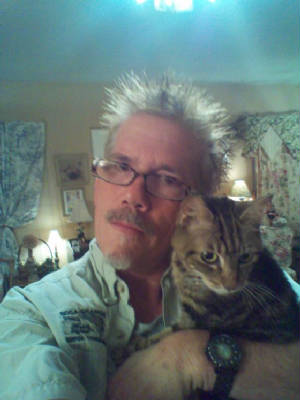 Chrissy had a host of volunteers helping her take care of the kitties.
Rick was making a great name for Puffy Paws and raising funds in the community while at the same time, Rick could not believe the high euthanasia rate of adoptable pets, corruption and the misappropriations of funds that where suppose to go for the animals but instead went into high administrative cost and huge salaries by the other animal organizations in the area. All protected by a good old boy network.
Rick spoke out for the voiceless animals that could not With hard facts in hand all backed up by government documents. Rick contacted the local newspaper , government agencies, wrote letters to the editors , that were denied, but when Rick broke the news of the alleged corruption down at a Fort Meyers TV station.
Payback was inevitable. Rick received a phone call 10 days before code enforcement came out to shut Puffy Paws down, that the good old boy network was looking into calling code enforcement to shut the Haven down.
Not caring if the cats lived or died.
The good old boy network did not care and or realize the great work we did and still do for the unwanted kitties in their very own community. They just wanted Puffy Paws out of the picture. As you may read in the following two Newspaper articles.

Today it is still easier for the good old boy network in this small town of ours, to spread rumors, gossip and out right lies about Puffy Paws. These people fail to educate themselves to see all the great work we have been doing in our community for years just by going to our website, facebook page or Googling or asking us in person.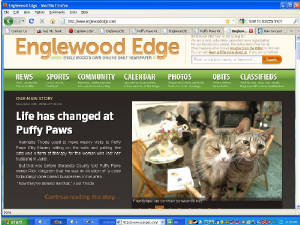 In 2009, Sarasota Code Enforcement ban all adoptions, surrenders, and volunteers to the Haven.Than again in 2009, Code Enforcement briefly shut down a Thrift Shop the Kingston's open to suporrt the kitties.

What these people did was put the burden of taking care of the kitties on the shoulders of one small woman with the inner strength of a 1000 men - Chrissy Kingston.

Chrissy works in pain everyday with her rheumatoid arthritis.She is under a Doctor's care but it is getting worst as the days goes on. She suffers in silence on most days.

Yet Chrissy makes the best of everyday and gives it her all by working long hours. Up to 16 hours on most days.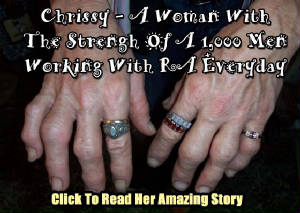 All of this did not stop the Kingston's. Now with a grueling schedule and the stress of raising funds, taking care of the kitties, and finding the adoptable kitties fur-ever homes, the Kingston go on only by the grace of God and the charity of the kitty lovers through out the World.
Word spread over the Internet about our daily dilemma and the kitties are now supported by the love of the cat lovers through out the world.
I have become a " Social Media High Tech Beggar " it may not be pretty but it works.
Everyday we must ask for help from Cat Lovers from all over the world, so that we may keep continuing our mission in helping the special need & unwanted kitties under our care.Our On-Line - " Just Ask - Hope You Can Help " - campaign was launched in 2009 and has raised over $500,000.00
Some folks cry they do not like our fund raising tactics. Our reality is the brutal truth. We have never sugar-coated it. Thats why the kitties are alive today because the kitty lovers of the world know about our daily dilemma.
Its truth or consequences fund raising. If folks do not donate - We can not take care of the cats and if this happens and if the $3,000 a month operating expense are not paid,we will have to shut down and the cats will die at the hand of others.
Only through the power of your love can these very special need kitties under our care see the light of tomorrow.
At Puffy Paws our fund raising philosophy is a simple one. Keep operating cost and fund-raising cost to a bare minimum. Be transparent, open and honest. Are books are open to the public.

All donations must go for the direct benefit of the kitties not people. We never have to raise funds for salaries or high administrative cost in the name of animals.

Against All Odds
With all of the heart and soul we can muster, there is no easier, softer way to say this:
We need an influx of working capital to continue with our mission at Puffy Paws Kitty Haven.Our options are limited at this time but there is hope on the horizon, and that is you.
100% of all donation goes to the kitties daily needs of $250 dollars a day, vet care and monthly operating expenses of 3,000 dollars ! All donations must go for the direct benefit of the kitties.

The priority of incoming funds are in this order, the kitties daily needs, vet care and operating expenses.
After that, funds are used for the maintenance and improvement of the Haven for the kitties.

Puffy Paws never have to raise funds for salaries in the name of animals. The Founders Rick & Chrissy Kingston's do not get paid.
It Cost Well Over $20,000.00 a month to run Puffy Paws Kitty Haven. $26.88 a hour every single day, 365 days a year.

The Majority of the fund Are Donated By The Kitties Lovers Through Out The World.
Just by asking for help when the kitties need it.
The priority of incoming funds are in this order, the kitties daily needs, vet care and operating expenses.
After that, funds are used for the maintenance and improvement of the Haven for the kitties.
If we fail at raising the funds needed every day for the kitties under our care, there will be no other option but to close down. What choice would we have ?
An entire cat hospice will be wiped out and only painful and sad stories will be told because we could not round up the worldwide awareness and financial help these beautiful cats deserve.

You have the power to avert this tragedy today.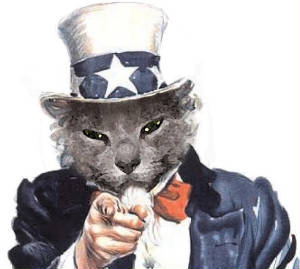 A $1 $5 $10 donation goes a long ways.

In these hard economical times, we all know the personal sacrifices each and everyone of you make when you donate to the kitties at Puffy Paws Kitty Haven and for this we will always be eternally grateful.

Mad Kitty Love To You,

Rick, Chrissy, & Da Kitties
PLEASE CLICK HERE TO VIEW YOUR PERSONAL THANK YOU WHEN YOU DONATE
PLEASE CLICK HERE TO VIEW YOUR PERSONAL THANK YOU WHEN YOU DONATE